SHORTLIST

Samadhi Nature Resort, Narampanawa by Mr. W.C. Jayasinghe (non architect)
Citizens Development Business Finance PLC Bank and Corporate Office, Colombo 10 by Archt. Shayan Kumaradas
Olu Beach Villa, Ambalangoda by Mr. Michael Daane Bolier (architect from the Netherlands)
Auditorium & Accommodation Chinmaya Mission, Ramboda by Archt. Yudish Ganesen
Mihila Green Factory, Agalawatte by Archt. Tilak Samarawickrama
The Urban Haven- Renovation & Addition to Carlton Pre-School, Colombo 10 by Archt. Ranga Dayasena
Sterling Aftercare Center, Galle by Archt. Thusara Waidyasekera
Studio Dwelling, Rajagiriya by Archt. Palinda Kannangara
Family Retreat, Malabe by Archt. Palinda Kannangara
Spa at Santani, Kandy by Archt. Thisara Thanapathy
Kaithady District Vocational Training Center, Jaffna by Archt. Chinthaka Wickramage & Nileeka Senerath


---
THE WINNERS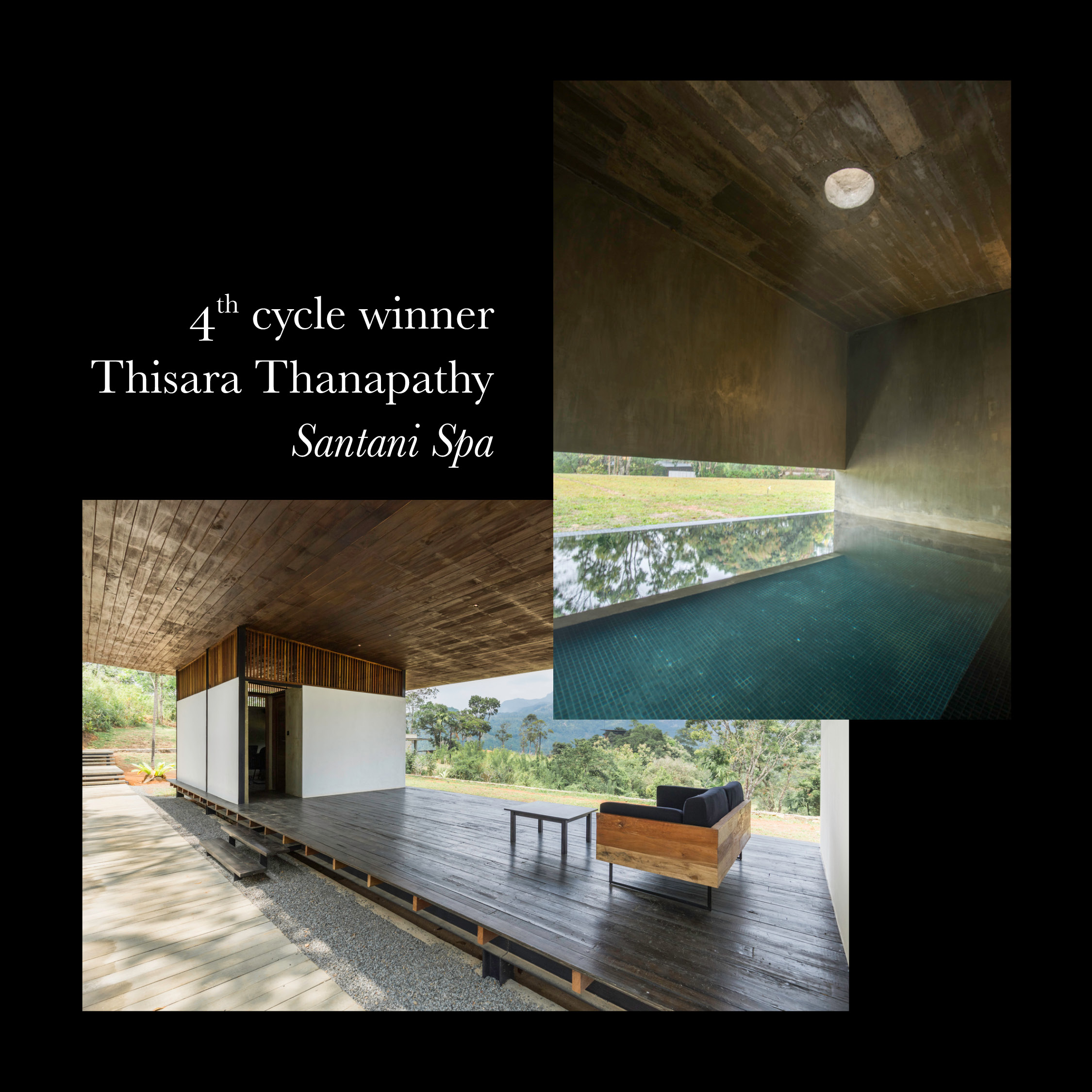 Geoffrey Bawa Award for Excellence in Architecture 2017
Spa at Santani, Kandy (2015); by Archt. Thisara Thanapathy

Residential (best of category)
Studio Dwelling, Rajagiriya (2015); by Archt. Palinda Kannangara

Commercial (best of category)
Citizens Development Business Finance PLC Bank and Corporate Office, Colombo 10 (2015); by Archt. Shayan Kumaradas

Institutional (best of category)
Kaithady District Vocational Training Center, Jaffna (2015); by Archt. Chinthaka Wickramage and Nileeka Senerath

Industrial, transport and infrastructure (best of category)
Sterling Aftercare Center, Gall (2016) Industrial, by Arch. Thushara Waidyasekera



---

JUDGES

Archt. Mok Wei Wei – The principal architect of W Architects, Singapore. He is professor in Practice of the Department of Architecture, National University of Singapore and is often invited as a jury member for design competitions and awards. In 2012, he was a member of the Grand Jury at the World Architectural festival.

Archt. D. H. Wijewardena – The Senior Vice President of Sri Lanka Institute of Architects. He has also served as a visiting lecturer at University of Moratuwa and University of Sri Jayawardenapura and now he is serving in this capacity at the city School of Architecture, Colombo.

Ms. Sharmini Pereira - The founder and Director of Raking Leaves and the Sri Lanka Archive of Contemporary Art, Architecture and Design. She was the Guest Curator at the Aga Khan Museum, Toronto, in 2014 and for the Abraaj Capital Art Prize in 2010. In 2006 she co-curated the first Singapore Biennale and has written and lectured about South Asian contemporary art for the last 20 years.

Mr. Ward Beling – Trustee the Geoffrey Bawa and Lunuganga Trusts.


© 2020 Geoffrey Bawa Trust. All rights reserved. You may not reproduce, distribute, display or create derivative works of any of the text, images or other content appearing on this website, nor may you use any of the trademarks, without written permission from the Geoffrey Bawa Trust.