Architecture
Geoffrey Bawa's work was mainly in Sri Lanka, but included several other countries as well: in India

, Indonesia, Mauritius, Japan, Fiji, and Singapore.

His works include houses, hotels, schools, clubs, offices and government buildings, most notably the Sri Lankan Parliament Building. It is no exaggeration to say that Geoffrey Bawa transformed the look of South and South-East Asia.

EARLY WORK IN TROPICAL MODERNISM
Strathspey Estate Bungalow, Upcott, 1959
Bishop's College Classrooms, Colombo, 1959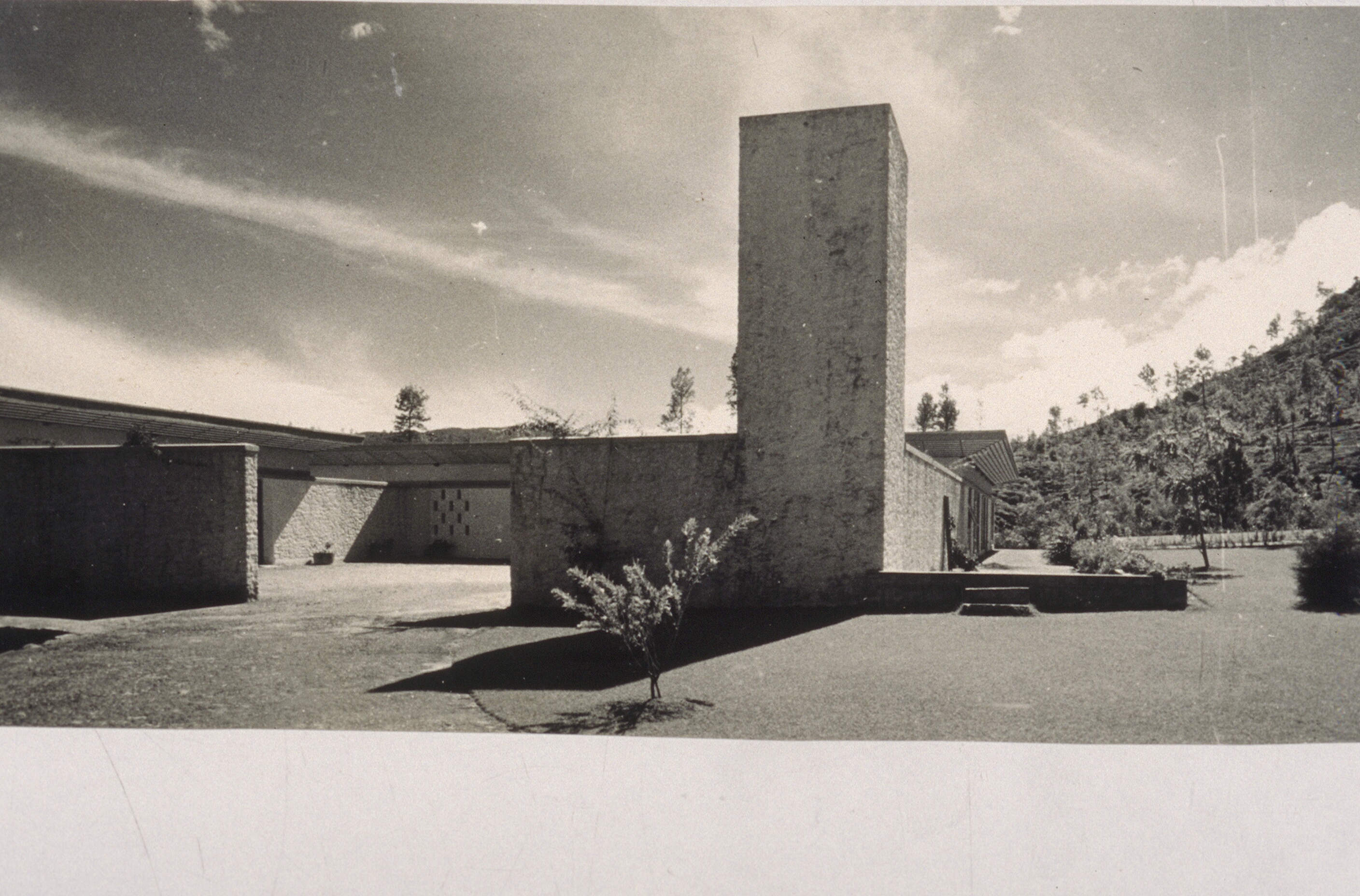 Bawa's early work included office buildings, factories and schools and was influenced by the 'Tropical Modernism' of Fry and Drew and ultimately by the work of le Corbusier. Typical of projects from this period are the remote Strathspey Tea Estate Bungalow at the foot of Adam's Peak, and the classroom extension for Bishop's College in Colombo.


---
Carmen Gunesekera House, Colombo, 1958
Upali Wijewardene House, Colombo, 1959
For more than a century Sri Lankan domestic architecture had been heavily influence by British taste.The typical British 'bungalow' was a pavilion on one or two floors, cellular in plan, extrovert in concept and located at the centre of a large garden plot. However the population of Sri Lanka was exploding and Colombo was rapidly evolving from leafy Garden City into modern Asian metropolis. As land prices rose so plot sizes shrank and the British bungalow could no longer guarantee privacy or provide adequate ventilation.


---
The A.S.H de Silva House, 1959

Tropical Modernism favoured white abstract forms and horizontal rooflines, though Bawa was soon forced to admit that overhanging pitched roofs offered the best protection against tropical sun and rain. His first es
say in 'roof architecture' was a house for a doctor called A.S.H. de Silva which was commissioned for a steeply sloping site in Galle. Here the deconstructed elements were reassembled on an exploding pinwheel plan and held together by a single raking roof plane.
THE EARLY YEARS - CONTEMPORARY VENACULAR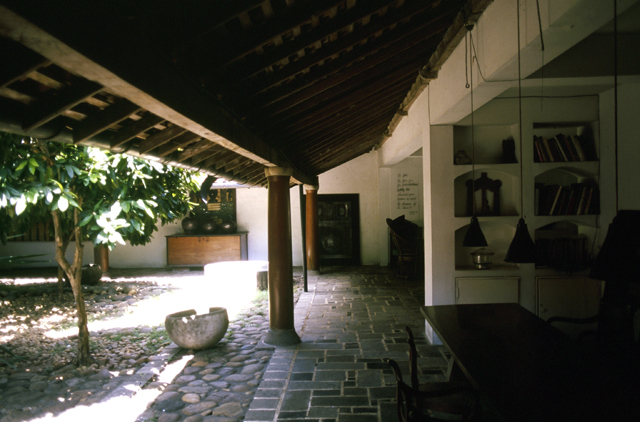 ENA DE SILVA HOUSE, 1960
Bawa was invited by Mrs.Ena de Silva to build a
house on a fairly small plot in the Colombo suburb of Cinnamon Gardens. She demanded a house which would be modern and open, but which would embody features of the traditional manor houses in which she had lived as a child. Bawa's solution employed the same elements as the Galle house, but he now carved them out of a solid form. The result is a totally introspective house which emphasises the voids as much as the solids and which allows a free flow of space from inside to outside.
THE POLONTALAWA ESTATE BUNGALOW, NIKARAWETIYA, 1963
In 1963 the director of a Swiss plantation company approached Bawa to design a new manager's bungalow for a remote coconut estate at Polontalawa on the banks of the DeduruOya. Bawa and Plesner invited the client to accompany them on a site visit and persuaded him that the house should be inserted into an area of huge boulders and be developed as a cluster of pavilions with roofs spanning from rock to rock.
BUILDINGS FOR THE CATHOLIC CHURCH
Convent Chapel, Bandarawela, 1961
St. Bridget's Montessori School, Colombo, 1963
Although not himself a Catholic, Bawa built a remarkable series of low-cost projects for the Catholic Church. The first of these, a Chapel for the Nuns of the Good Shepherd Convent in Bandarawela (1961), was the result of collaboration with Ulrik Plesner. The chapel sits on a ridge above the town and consists of a solid hulk of rubble masonry terminating in a square tower which acts as the skylight for the altar. The north side of the nave is fully glazed, its window frames forming the three crucifixes of the Calvary. The altar crucifix was designed by Laki Senanayake and the terra cotta Stations of the Cross by Barbara Sansoni.
THE YAHAPATH ENDERA FARM SCHOOL, HANWELLA, 1965
The Yahapath Endera Farm School was built for orphan girls on a rubber and coconut estate about 30 kilometers to the east of Colombo. Bawa placed the various buildings on a formal orthogonal grid but they were allowed to 'run with the contours' in section. Individual buildings were positioned carefully to define open spaces and axes and to regulate the vistas between them.
THE BENTOTA BEACH HOTEL, 1968
The Bentota Beach Hotel and its neighbour the Serendib Hotel were Sri Lanka's first purpose built resort hotels and immediately set the standard against which all subsequent hotels would be measured.The Serendib was a budget hotel and was conceived as a modern version a simple traditional Rest House, while the Beach Hotel offered subtle hints of a lost world of ancient palaces, medieval manor houses and colonial villas.
THE MADURAI CLUB, MADURAI, SOUTH INDIA, 1971
The changing political climate of the early 1970s made Bawa uncertain about the future of his office and he began to look abroad for work. In 1971, after obtaining a commission to extend the renowned Connemara Hotel, he opened a subsidiary office in Madras.
THE BATUJIMBAR ESTATE, SANUR, BALI, 1973
In 1973 the Australian painter Donald Friend invited Bawa to design an estate of private villas at Batujimbar on the southern tip of the island of Bali. The project offered opportunities for regular site visits and Bawa spent some time with Friend developing a master plan and studying local architectural and craft traditions.
WORKING IN THE TROPICAL CITY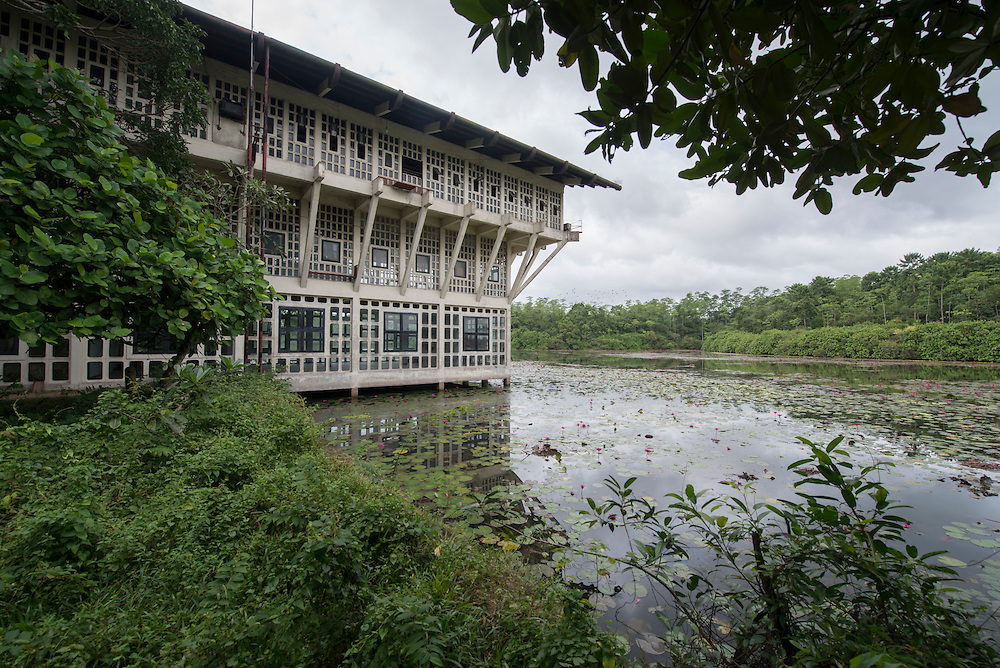 Steel Corporation Offices, Oruwela, 1966
Agrarian Research and Training Institute, Colombo, 197
Industrial Estate, Pallakelle, 1971
State Mortgage Bank, Colombo, 1976
THE SRI LANKAN PARLIAMENT, KOTTE, 1979
The 1977 General Election produced a new government headed by J.R. Jayawardene. In that year Bawa built a remarkable Buddhist ordination temple, the SeemaMalaka, on an island in Colombo's Beira Lake. With hindsight this simple composition of hip-roofed pavilions can be viewed as a development model for his next major design.
TRITON HOTEL, AHUNGALLA, 1979
The Triton Hotel at Ahungalla is hidden away in a coconut grove beside a long and featureless beachfront. The design partie was a seemingly banal version of a traditional rest house with two long wings of rooms facing the ocean under overhanging hipped roofs. But Bawa's strength lay in his ability to control a project on site and breathe magic into it.
RUHUNU UNIVERSITY CAMPUS, 1980
The master plan for the new University of Ruhunu on the south coast near Matara covered an area of thirty hectares and spanned across two hills with views across a lake towards the southern ocean. The campus required 50, 000 square metres of buildings to accommodate a projected total of
4,000 students. It was built by Dutch contractors and took eight years to complete.
NEW INTO OLD
Lydia Duchini House, Bentota
Mohoti Walaawe Hotel, Bentota
Seeking relief form the big projects in his office, Bawa amused himself with small-scale renovations of old
buildings. An old friend, the Italian sculptress Lydia Duchini, enlisted his help in reviving two old houses which faced each other across the main road at Bentota. Here his solution was to realign one house to face its rear garden while rebuilding the other within that garden to create a composition of two pavilions: something new from something old.
MINIMALISM – MARTENSTYN HOUSE, COLOMBO
Bawa now had little time to spare for the small intimate projects which he so much enjoyed, but when a favorite client from the early 1960s requested a second house for her daughter, he responded with an astonishing tower which was slotted within the branches of a huge Bo Tree in a corner of the original garden. With it its austere geometric forms, the Martenstyn House signalled a rekindled interest in the language of Modernism and the beginning of a new chapter in Bawa's oeuvre.
HIATUS - THE UNBUILT PROJECTS
Singapore Cloud Centre, 1989
Bali Hyatt Hotel Extension, 1989

The large projects of the early eighties brought Bawa international recognition and in 1986 his work was celebrated in a Mimar book (Taylor) and in an exhibition at the R.I.B.A in London. Although he had been excited by the experience of designing large and prestigious buildings he missed the direct control which he had exercised over his earlier projects. After 1987 he spent less and less time in the office in Alfred House Road. He and his partner Poologasundram grew apart and after 1989 the practice effectively ceased to function. Bawa was now in his seventies and it was widely assumed that he would retire to Lunuganga and contemplate his garden. Nothing, however, could have been further from the truth. The closing of the office signalled a new period of creativity and he began to work from his Bagatelle Road home with a small group of young architects to produce a steady stream of fresh designs.
SOLO - CONTEXUAL MODERN
KANDALAMA HOTEL,
DAMBULLA, 1991
The opportunity to build again came at the end of 1991 when Bawa was commissioned to design a hotel close to King Kasyapa's rock citadel at Sigiriya. True to form, he rejected the proposed site and persuaded the clients to move the hotel some fifteen kilometers to the south to a rocky outcrop above the ancient Kandalama Tank. In its final design the 160-bedroom hotel is wrapped around the two sides of the rock with rooms facing across the tank towards Sigiriya and Dambulla. The two wings are connected by a cave-like corridor which runs through the rock from the hotel entrance to the main reception areas.
HOUSES
Claughton Guest House, Dickwella, 1984
de Soysa House, Colombo, 1985

During this period Bawa accepted relatively few commissions to design private houses. In 1984 he built the Claughton Guest House, a sedate pavilion on the cliffs above Tangalla Bay, and in 1985 he constructed a tower house in Colombo for his friends Cecil and Chloé de Soysa.
THE LIGHTHOUSE HOTEL, GALLE, 1995
The Lighthouse Hotel is built on a rocky promontory to the north of the old Arab port of Galle which sits tightly between the main road and the sea.
THE BLUE WATER HOTEL, WADDUWA, 1997
Blue Water was Bawa's last hotel and the last project which he supervised on site before his final illness struck. Here he returned to the rest house theme, but reinterpreted it on a grand scale with vast courtyards and endless vistas: an essay in stark but perfectly proportioned minimalism.
THE JAYAWARDENE HOUSE, MIRISSA, 1997
The Jayawardene House was designed as a weekend retreat high on the red cliffs which frame the eastern end of Weligama Bay. The visitor climbs a narrow track from the busy main road and after a final twist discovers a breathtaking view across the bay framed by a grove of swaying coconut palms. Closer inspection reveals that the coconut trunks are harbouring a platoon of black columns and that a thin horizontal roof is floating amongst their fronds. A simple pleasure pavilion stands on a stepped plinth facing towards the place of the setting sun: a house stripped to its bare essentials.
© 2020 Geoffrey Bawa Trust. All rights reserved. You may not reproduce, distribute, display or create derivative works of any of the text, images or other content appearing on this website, nor may you use any of the trademarks, without written permission from the Geoffrey Bawa Trust.