Lunuganga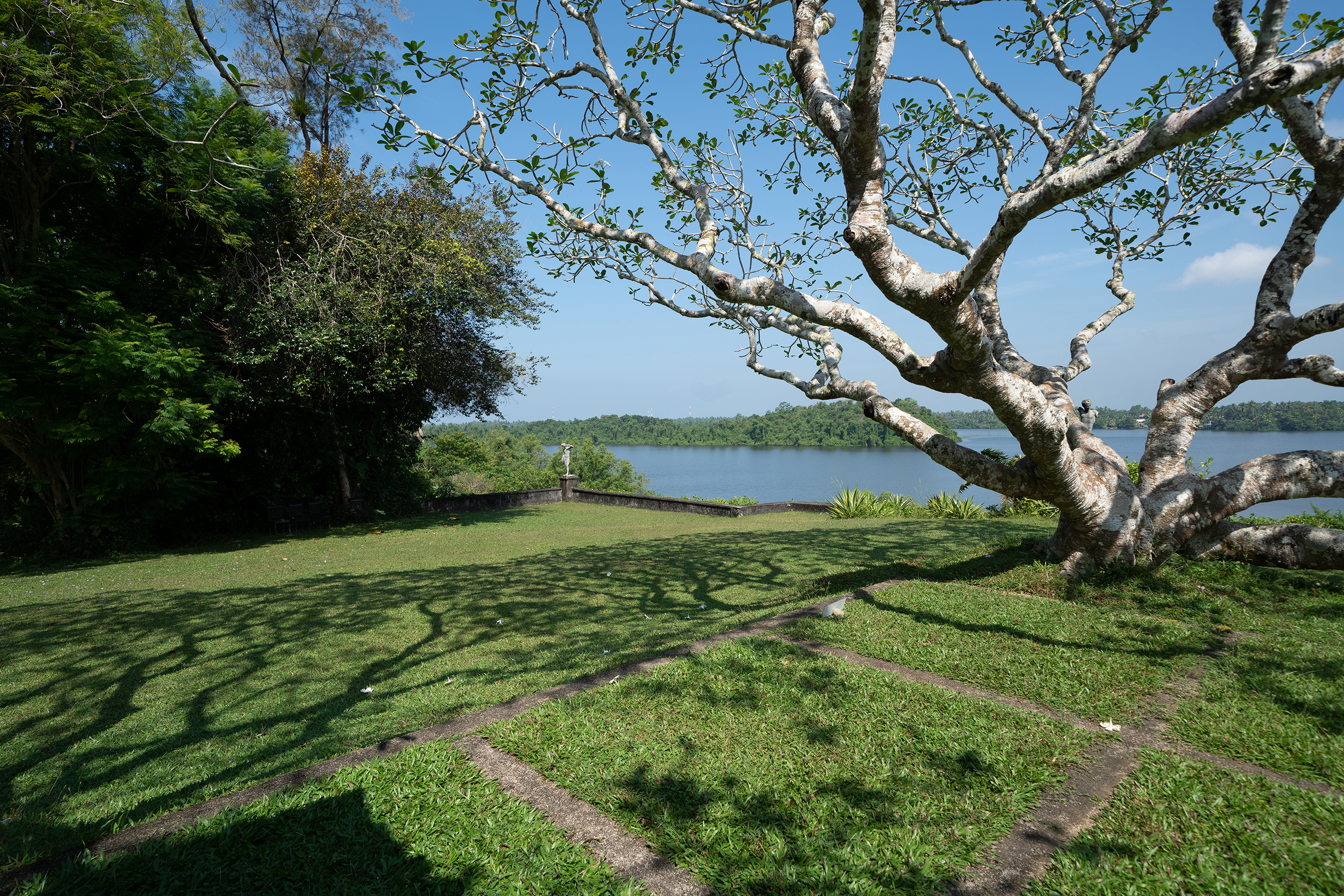 Geoffrey Bawa purchased a neglected rubber plantation on Sri Lanka's south coast in Bentota, in January 1948, on the eve of Sri Lanka's independence from British colonial rule. From the onset, Bawa was intent on finding a land with a connection to the water, and it took a considerable search to arrive at Lunuganga. Upon seeing the land, Bawa at once knew that with some operations, it could be transformed as he envisioned. Much later, in the process of working on the monograph Lunuganga published by Bawa with Christoph Bon and Dominic Sansoni in the late 1980s, he wrote to his friend Jean Chamberlain of the effort, "When I had first seen Lunuganga I had known that with a first few clearings of trees and opening up of obvious vistas an inevitable basic pattern would emerge. It was enormously exciting, and the morning after the dramatic breaking of walls and the feel of possession the adventure began—and(sic) adventure that has lasted 40 years and the pleasure of which has never palled."

The salty water of the lake, which is actually a lagoon branching from the Bentota River, explains Bawa's name for the garden; "lunu-ganga" or "salt-river". Bawa also lowered the ridge of the hill here to be able to catch a glimpse of the water at the far end and placed a large antique Chinese jar whose silhouette catches the eye as it sweeps over the hill towards the southern horizon.

Bawa continued to shape and change Lunuganga until the very end of his practice; when he was taken ill and immobile. In fact, he continued to spend time in the gardens even in the final stages of his life; and the soothing qualities of the place prevail even today. It is both an ever-transient place and one where time stands still; a subtle change in the position of the sun or the direction of the wind will completely change the dance of the leaves at Lunuganga and its entire atmosphere. Yet it feels as though the gardens have always been there, we feel assured that it will remain.


Garden Tours
We offer guided tours at Lunuganga daily:
11:00 a.m. | 2:00 p.m. | 3:00 p.m.
Foreign Rate:
USD 15
Local Rate:
LKR 3,000
Local Student Rate:
LKR 500
Payment can be made in cash or via credit / debit card (either in USD or LKR)
Children under 7 years of age enter free
(Prior reservation is not required for garden tour)
Please contact us via e-mail for group visit appointments:
enquiries@teardrop-hotels.com
View
Visitor Guidelines
Private tours by a Geoffrey Bawa Trust Curator can be arranged by prior appointment (subject to availability).
Private Tour Rate:
USD 500
Tour by Channa Daswatte (Chairperson):
USD 750
Dining + Stay

The open plan lake-view restaurant gazes into the garden. Lunuganga is the venue to try some of the island's standout dishes – plain or egg hoppers, kiribath, and fiery chilli- and lime-infused coconut sambol – as well as international and contemporary Asian fusion meals.
Traditional rice and curry can be enjoyed at lunchtime and also at dinner, and curries are also on the menu for breakfast, alongside more traditional western options such as scrambled eggs and homemade granola. Drinks include coffee, Ceylon Tea and freshly squeezed juices.
All dishes use the finest local ingredients, and many of the fruits, vegetables and herbs used in our freshly cooked meals are plucked daily from our kitchen garden.
Our chefs cater to all dietary requirements, and a children's menu is also available.
We welcome outside diners visiting Lunuganga as part of a garden tour, when booked in advance.
Reservations:
+94 773 638 381
+94 777 252 271
E-mail:
enquiries@teardrop-hotels.com
© 2020 Geoffrey Bawa Trust. All rights reserved. You may not reproduce, distribute, display or create derivative works of any of the text, images or other content appearing on this website, nor may you use any of the trademarks, without written permission from the Geoffrey Bawa Trust.